Agent F (fox)
Gender:
Female
Height:
Taller than Agent P
Nationality:
American
Hometown:
Possibly Danville
Nemesis:
L.O.V.E.M.U.F.F.I.N.
Professional Information
Profession:
 
Secret Agent
Affiliations:
 
O.W.C.A.
Agent F is a fox agent who first appeared in "Cheer Up Candace".
Trivia
According to her secret file, she can sneak her way out of any trap, due to her wily nature. She can build efficient weapons/gadgets out of common items. She plays video games during her free time. ("Where's My Perry?")
When she rolls up her fur, she has bulky arm muscles. ("Phineas and Ferb Save Summer")
Gallery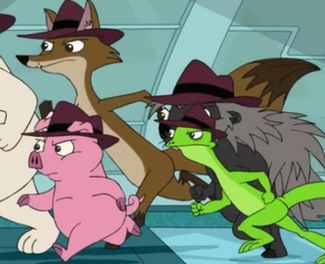 The image gallery for Agent F (fox) may be viewed here.
Appearances
Ad blocker interference detected!
Wikia is a free-to-use site that makes money from advertising. We have a modified experience for viewers using ad blockers

Wikia is not accessible if you've made further modifications. Remove the custom ad blocker rule(s) and the page will load as expected.