Professional Information
Position in The Baljeatles (band):
 
Lead Guitar and singer
Profession:
 
Student (on vacation), Professor (in the future)
"I'm running out of underpants!..."
— Baljeet
"Namaste, compadres!"
— Baljeet
Baljeet Tjinder is Phineas Flynn and Ferb Fletcher's friend who helps them with their Big Ideas.
Personality
Baljeet is an Indian boy who always gets good grades and is constantly bullied by Buford. He's considered a nerd and, for him, to get an F on a math test is the scariest thing known to man ("One Good Scare Ought to Do It!"). He has moved here from India for his education. He can play various instruments, including the drums and the guitar. Although it seems like all his feelings make him want to do math, he actually just does a lot of math, "the feelings come and go" ("The Baljeatles").
He is great at math, passive, and very polite. He enjoys trivia (Let's Take a Quiz), learning, and has a compelling need to get good grades ("One Good Scare Ought to Do It!", "Tip of the Day", "Unfair Science Fair", "The Baljeatles"). Baljeet is also the leader of a group of science fiction fans, and is the only sixteenth level Space Adventure Trivia Master in the world ("Nerds of a Feather"). He speaks without contractions, perhaps due to his studious background or because English is his second language. He also has an irrational fear of contractions ("Monster from the Id").
During the group's activities, he is often paired with Buford. While Buford often bullies him by taking his underpants, there is also a protective nature between the two of them ("Get That Bigfoot Outa My Face!", "The Ballad of Badbeard", "The Beak "). He also learns things he never knew Buford could do ("Tip of the Day", "The Baljeatles", "Unfair Science Fair", "Phineas and Ferb Summer Belongs to You!", "Meatloaf Surprise").
Biography
Summer adventures
When Baljeet first met Phineas and Ferb, he had no idea why they were not studying at all (conversely Baljeet was attending a summer school). It is implied that Baljeet knows Buford very well, being one of his favorite victims (if not the favorite victim) ("Raging Bully").
Since that time, as the summer continues, Baljeet has begun to appear more and more often, and increasingly collaborate more and more with Phineas and Ferb. Baljeet is often surprisingly paired with Buford with whom he has developed a strange friendly victim-bully relationship.
Over the summer, Ginger, a member of the "Fireside Girls", had developed a strong crush on him; while Baljeet had had some romantic moments with other girls (such as Mishti Patel and Wendy Stinglehopper), he was unaware of Ginger's crush, in a situation similar to Phineas with Isabella.
While remaining a nerd to all effects, it is clear that Baljeet has developed a strong friendship with Phineas, Ferb, Isabella and, above all, Buford, participating almost always to the Big Ideas of the two step-brothers.
Teenage Years
About ten years later, Baljeet was still close with his childhood friends and engaged with Ginger. While his friends had just finished high school, Baljeet has already graduated and has become a professor, offering his friend Buford to follow his classes; though Buford is leaning towards attending film school instead ("Act Your Age").
Skills
Relationships
Baljeet is often seen coming to Phineas for help or advice, which in turn gives Phineas the inspiration for their big idea of the day ("Unfair Science Fair Redux (Another Story)", "Attack of the 50 Foot Sister", "That Sinking Feeling", "The Baljeatles"). Phineas is always willing to lend a helping hand, and Baljeet is almost always included in the boys daily activities. On occasion, Phineas has come to Baljeet for advice, usually on trivial matters ("Tip of the Day", "Undercover Carl").
Because of Ferb's lack of speech, he is rarely ever seen directly communicating with Baljeet, and not much is known of their relationship, but it is assumed that they are also close friends as Ferb is always seen working with Phineas when helping Baljeet ("Unfair Science Fair", "Attack of the 50 Foot Sister", "That Sinking Feeling"). Baljeet appears to greatly admire Ferb's abilities and once stated to Phineas "Can I borrow Ferb sometime?" ("Attack of the 50 Foot Sister"). Ferb also lets Baljeet win at a video game to save Baljeet's "fragile nerdy ego" ("Brain Drain").
Because Candace doesn't want to ruin her reputation by being seen with her brother's friends ("Boyfriend From 27,000 B.C."), she rarely converses with Baljeet, but on a rare occasion was seen speaking to him at a seminar ("The Secret of Success"). For the most part she tends to ignore Baljeet because she is so focused on busting her brothers, though on one occasion she has tried to bust Baljeet as well as Buford when they were the only ones present in the backyard ("Not Phineas and Ferb"). Baljeet seems to pay more attention to Candace, stating to Phineas that she had missed the song I Believe We Can before they took off on their journey together around the world ("Phineas and Ferb Summer Belongs to You!").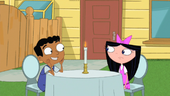 Baljeet may have a crush on Isabella. When Phineas and Ferb required two people to play a couple on a date while testing a reverse-engineered machine, Baljeet said it was fate that he and Isabella were picked. Isabella, however, said Baljeet "charged to that empty chair like a crazed bull" ("What Do It Do?"). Baljeet has hinted also by saying "Was I a convincing Phineas?", implying that he wanted to know how Isabella felt about it. However she replied with "No, no you weren't" ("Not Phineas and Ferb"). When Baljeet was viewing a computer displaying random images, he seemed to be annoyed when it suddenly showed Isabella thinking about Phineas. This may suggest that Baljeet is somewhat jealous about the relationship between Phineas and Isabella ("Ask a Foolish Question").
Main article: Buford and Baljeet's relationship
Even though Buford is the local bully who always terrorizes Baljeet, they are often seen together, especially when they are involved in Phineas's and Ferb's Big Ideas. They seem to have formed a like-hate relationship and are often considered as frienemies. Though Buford uses Baljeet as a punching bag, he also confides in Baljeet some of his secrets, like that he can speak fluent French ("Phineas and Ferb Summer Belongs to You!"). Like a good frienemy, Baljeet doesn't mention this to the others, or perhaps Buford has intimidated him not to do so. Also, when Baljeet becomes stuck in a tree, Buford tries to entice him to come down with Baljeet's calculator and favorite math problems, and is seen overwhelmingly happy when Baljeet is saved ("The Beak").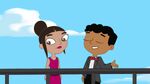 Baljeet's childhood friend from India, who is seen to have been a close friend and playmate. She visits him four years later and Baljeet is shocked to discover she has "turned into a girl" as she used to be a tomboy. It is implied the two like each other, though Mishti seems to prefer a friendly relationship compared to Baljeet's attempts at romance, figuring that is what girls like. It seems that Baljeet has a little crush on her but doesn't really know what to do.("That Sinking Feeling").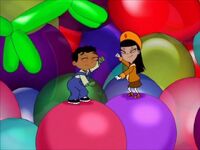 Baljeet does not know about this yet, but Ginger has a crush on him similar to Isabella's crush on Phineas, but to a lesser degree due to the lack of on-screen interaction ("Isabella and the Temple of Sap"). During the song "it's a New Year", Ginger and Baljeet were seen dancing together ("Happy New Year!"). Later, when Baljeet is seen talking to Ginger about the bees' "waggle dance" he is seen possibly developing a crush on her because when Phineas asks for help he says "In a minute!" However, Ginger is turned into a bee and Baljeet is left alone yet again. ("Bee Day"). They both danced together in ("Druselsteinoween").
Ten years later, Ginger and Baljeet have become a couple, though when they began dating is unknown ("Act Your Age").
Baljeet seems to be friends with Wendy Stinglehopper, as they know each other's names and they both like math. Baljeet may even have a crush on her, because he risked his life to save her present. Afterwards, she and Baljeet noticed the mistletoe above them, and she kissed him gently. He acted shy, but then kissed her very passionately. Baljeet left her surprised and said "Later", definitely confirming that he likes her. ("Phineas and Ferb Christmas Vacation!")
Baljeet doesn't like Irving and calls him a nerd ("
Hide and Seek
"), but despite that they worked together in the fight against
alternate Doofenshmirtz
's
Norm Bots
using
The Beak
suit (
Phineas and Ferb The Movie: Across the 2nd Dimension
).
Gallery
The image gallery for Baljeet Tjinder may be viewed here.
Background Information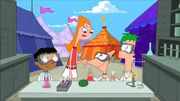 Appearances
♣

- These are Spot the Diff episodes
References
↑

Attack of the 50 Foot Sister - Creator Commentary
External links
Ad blocker interference detected!
Wikia is a free-to-use site that makes money from advertising. We have a modified experience for viewers using ad blockers

Wikia is not accessible if you've made further modifications. Remove the custom ad blocker rule(s) and the page will load as expected.