Ad blocker interference detected!
Wikia is a free-to-use site that makes money from advertising. We have a modified experience for viewers using ad blockers

Wikia is not accessible if you've made further modifications. Remove the custom ad blocker rule(s) and the page will load as expected.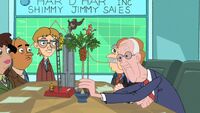 Climby toys are a line of toys manufactured by the Har D Har Toy Company. They feature a small figure that moves up and down an object that matches its theme. According to a certain board member, Har D Har had always made climby toys.
To date, the Har D Har Toy Company has produced five climby toys:
Climbin' Simon - a monkey that climbs a rope from a barrel
Ascendin Brendon - a King Kong-like ape that climbs a building
Ladderman Larry - a fireman that climbs a ladder
Climby Jaimie (pronounced as "hi-me") - a monkey that climbs a palm tree
Shimmy Jimmy — a monkey that climbs a coconut tree
Despite a commercial with a catchy jingle and a Shimmy Jimmy mascot, as well as their retail store in the Googolplex Mall being stocked with quite a variety of Shimmy Jimmy merchandise, sales plummeted and then went flat. Har D Har Toy Company management began looking for a new type of toy, despite reluctance to break with their traditional product line.
Phineas and Ferb introduced their Perry the Inaction Figure prototype and the company immediately retooled their product line to manufacture it. The company would later go on to market a toy called Brick. ("Toy to the World")
See also
Shimmy Jimmy, the song for the toy of the same name
Brick, the song for the toy of the same name