Dave and Rick



Dave and Rick

Gender:
Male
Nationality:
American
Hometown:
Danville
Dave and Rick are announcers at the Swamp Oil 500 when Phineas was driving Linda's car. They are modeled to look like Dan Povenmire and Jeff "Swampy" Marsh ("The Fast and the Phineas"). One of the announcers appears again in Nerdy Dancin' as the camera man. During Carpe Diem when it shows Charlene Doofenshmirtz and Roger Doofenshmirtz, they are seen dancing next to them ("Rollercoaster: The Musical!").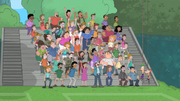 Appearances
Ad blocker interference detected!
Wikia is a free-to-use site that makes money from advertising. We have a modified experience for viewers using ad blockers

Wikia is not accessible if you've made further modifications. Remove the custom ad blocker rule(s) and the page will load as expected.