Ad blocker interference detected!
Wikia is a free-to-use site that makes money from advertising. We have a modified experience for viewers using ad blockers

Wikia is not accessible if you've made further modifications. Remove the custom ad blocker rule(s) and the page will load as expected.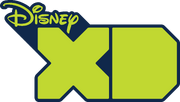 Disney XD is an American digital cable television channel owned by The Walt Disney Company that mostly airs children animated television series. The network launched on February 13, 2009 as the successor to Toon Disney. Its target market is aimed at male children from ages 6 to 14. Disney XD began broadcasting in the UK on satellite provider Sky and cable provider Virgin Media on August 31, 2009. A high definition version of Disney XD UK started broadcasting on Sky on October 18, 2010, for Sky HD subscribers who also subscribe to the kids pack.
The channel is also offered with Spanish language audio, either via a separate channel sold as part of a Spanish language network package sold by cable and satellite providers, or via a separate audio track with the SAP option, depending on system. A high definition feed of the network is also offered on some cable providers, as well as both satellite providers and telco IPTV providers in the ABC/Disney networks preferred format of 720p. Disney XD movie show premieres at 5:00 pm that shows classic Disney movies.
Programs
Original programming
Aaron Stone (Febuary 13 2011-present)
I'm In the Band (January 12, 2012- May 15, 2013)
Kick Buttowski: Suburban Daredevil (Febuary 13, 2010- December 2, 2012)
Disney XD Shortstop (Febuary 28 2010- March 5 2011)
Zeke and Luther (August 22, 2010- June 12, 2012)
Lab Rats (

February 27, 2012-present)

Kickin' it (June 13, 2011-present)
Crash & Bernstein (October 8, 2012–present)
Mighty Med (October 7, 2013–present)
Randy Cunningham: 9th Grade Ninja (August 13, 2012-present)
Phineas and Ferb (February 13, 2009-present)
Wander Over Yonder (March 31, 2014-present)
Co-productions
Jimmy Two-Shoes
Kid vs. Kat
Packages from Planet X
Avengers Assemble (2013–present)
Hulk and the Agents of S.M.A.S.H. (2013–present)
Max Steel (2013–present)
Pac-Man and the Ghostly Adventures (2013–present)
Ultimate Spider-Man (2012–present)
Disney programming
American Dragon: Jake Long
Even Stevens
Fillmore!
Gargoyles
Get Ed
Gravity Falls
Kim Possible
Phil of the Future
Recess
Super Robot Monkey Team Hyperforce Go!
The Emperor's New School
The Famous Jett Jackson
The Legend of Tarzan
The Suite Life of Zack & Cody
The Suite Life on Deck
The Replacements
Yin-Yang-Yo!
Wander Over Yonder
Acquiring programming
A.T.O.M.
Batman
Chaotic
Digimon Data Squad
Doraemon
Fantastic Four
Fresh Prince of Bel-Air
Iron Man
Jackie Chan Adventures
Legend of the Dragon
Monster Buster Club
Mr. Young
Oban Star-Racers
Pinky and the Brain
Pucca
Shinzo (premieres June 6 at 3:00am, replacing Aaron Stone)
Spider-Man
Spider-Man and His Amazing Friends
Spider-Man Unlimited
Static Shock
Superman
The Avengers
The Incredible Hulk
The Spectacular Spider-Man
X-Men
Slugterra
External links