Doofenshmirtz's background singers



Some of the singers

Gender:
Female
Nationality:
American/Drusselstenien
Professional Information
Position in Chorus:
 
Main Singers
Profession:
 
Singers
Affiliations:
 
Doofenshmirtz Evil Incorporated
The Doofenshmirtz family has a tradition of hiring groups of identical-looking women to perform as background singers when they are singing. They are typically young and blonde.

Heinz Doofenshmirtz has hired women like this for the following songs:
Background Information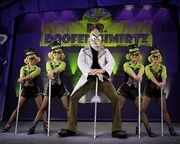 Appearances and references
Ad blocker interference detected!
Wikia is a free-to-use site that makes money from advertising. We have a modified experience for viewers using ad blockers

Wikia is not accessible if you've made further modifications. Remove the custom ad blocker rule(s) and the page will load as expected.