The script is a piece of paper reminding Doofenshmirtz what he is going to say and do to Perry when he walks in. The script was seen in "No More Bunny Business".
The Doofenshmirtz Evil Scheme Script
                                                                              CUT TO:

                    CLOSE ON HEINZ DOOFENSHMIRTZ,
                         BRILLIANT EVIL MASTERMIND, HE
                         IS WORKING ON A NEW 'INATOR' IN
                         HIS PENTHOUSE LAIR.

                                  DOOFENSHMIRTZ
                               Ah! Perry the Platypus!
                               How unexpected for you to 
                               burst in on my nefarious
                               plans!

    (PAUSE A BEAT)

    CAGE COMES DOWN, PERRY IS TRAPPED.
    THE INGENIOUS DR. DOOFENSHMIRTZ
    APPROACHES PERRY.
Trivia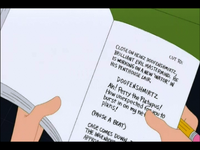 If you skip through the episode frame-by-frame, you can see the "CLOSE ON" part for three frames.
"No More Bunny Business" is the only time where Doofenshmirtz works on a script of what he's going to say to Perry.
Errors
Ad blocker interference detected!
Wikia is a free-to-use site that makes money from advertising. We have a modified experience for viewers using ad blockers

Wikia is not accessible if you've made further modifications. Remove the custom ad blocker rule(s) and the page will load as expected.