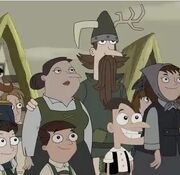 The Doofenshmirtz family is a family originally from Drusselstein. The first confirmed member is the evil Dr. Jekyll Doofenshmirtz from the Victorian days, although it is highly probable that Doofus Khan from ("Doof Dynasty") is related to the Doofenshmirtz family, (and if so they would be older) this is unconfirmed.
Family Tree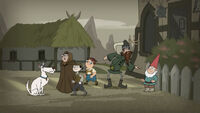 Family Gallery
Appearances
Jekyll Doofenshmirtz
Gretel Doofenshmirtz
José Doofenshmirtz
Fluffy Pants Doofenshmirtz
Mr. Doofenshmirtz
Appearances of Mr. Doofenshmirtz
Heinz Doofenshmirtz's unnamed mother
Heinz Doofenshmirtz's unnamed mother's appearances
Heinz Doofenshmirtz
Roger Doofenshmirtz
Charlene Doofenshmirtz
Vanessa Doofenshmirtz
Doofus Khan
Professor Von Doofenshmirtz
Gertrude
Henrietta Hawkenschpit
Gertrude Zupermülthienator
Doofengung
Narthelliot
Simpkin
Boris
Effie
Trivia
In the Russian dub of the series, the name was changed to Foofelsmirz (Фуфелшмерц).
Ad blocker interference detected!
Wikia is a free-to-use site that makes money from advertising. We have a modified experience for viewers using ad blockers

Wikia is not accessible if you've made further modifications. Remove the custom ad blocker rule(s) and the page will load as expected.