Fifi
Gender:
Female
Nationality:
American
Hometown:
Danville
Professional Information
Profession:
 
Camerawoman
Affiliations:
 
Bust 'Em
Physical Appearance
Fifi has fair skin and light orange hair. She wears a light yellow T-shirt, light red or light brown Capri pants and light blue sneakers. She also wears light yellow earrings.
Background Information
Fifi First appeared as a camera operator working for Bust 'Em ("Leave the Busting to Us!"). In Phineas and Ferb Summer Belongs to You! she was seen at a substitute teacher's meeting. She can be seen in the background at many major events and could be a freelance reporter since she no longer has a camera. She was also at the Canada Day celebration in Sidetracked.
Gallery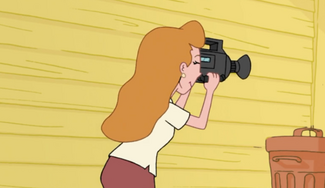 The image gallery for Fifi may be viewed here.
Appearances
Ad blocker interference detected!
Wikia is a free-to-use site that makes money from advertising. We have a modified experience for viewers using ad blockers

Wikia is not accessible if you've made further modifications. Remove the custom ad blocker rule(s) and the page will load as expected.