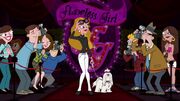 Flawless Girl Cosmetics is a brand of cosmetics founded by Blanca Dishon. It has a vast array of cosmetic products and even has its own commercial used to advertise them. When used, it is supposed to turn its user "flawless".
Known Flawless Girl models
Unnamed model wearing a black shirt and white pants
Candace Flynn for a short time
Jingle
Flawless Girl Cosmetics has its own jingle: Flawless Girl.
Trivia
Appearances