"Wintertime's fun. Follow Me!"
— Frosty in Christmas Vacation
Frosty the Snowman
Gender:
Male
Height:
Taller than Perry
Professional Information
Profession:
 
Snowman
Affiliations:
 
Christmas
The O.W.C.A.
Friends and Family
Creator:
Jack Rollins and Steve Nelson (The original in 1950)
Friends:
Perry the Platypus
Video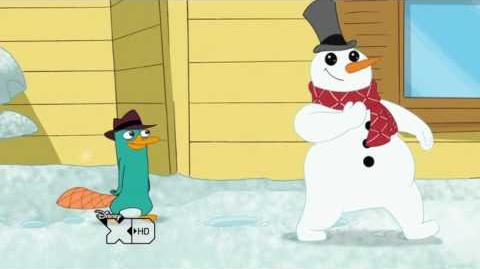 Frosty the Snowman is a snowman that appeared in "Phineas and Ferb Christmas Vacation!" after Ferb wonders were Perry is, Perry appears walking through the snow, then, he puts a top hat on a snowman. The snowman comes to life and tells Perry "Wintertime's fun. Follow me!" A loud crash is heard, and the poor snowman's nose rolls over to Perry, then Perry is next shown exiting the Agency's elevator into The Agency Christmas party, still holding the carrot, which Major Monogram later eats.
There is a Christmas carol about him, and a variation of it was performed by Monogram and Carl in "Phineas and Ferb Holiday Favorites"
Trivia
During the credits, Frosty reappears and it is revealed that a truck hit a vegetable cart, and a carrot rolled over to Perry.
Gallery