My schedule is totally blown! I am going to miss my polka recital!
The gallery or quotes is/are not in order and is in need of organization. Please fix this. (August 3, 2011)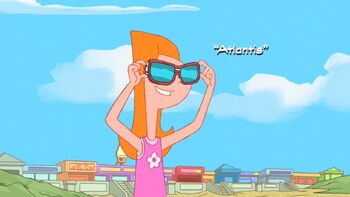 During a trip to the beach, Phineas, Ferb, Isabella, Buford, Baljeet and Irving try to find the lost city of Atlantis which is located in the bottom of the ocean. Then Candace and Linda enter a sandcastle building contest when Candace found out that Jeremy is the judge. Meanwhile, Doofenshmirtz creates an army of plants.
Read the full summary...
Discovering Atlantis
Candace and her mom, and Jeremy
Doofenshmirtz's plants
To return to the "Atlantis" episode summary, click here.