Isabella and the Fireside Girls attempt to get their Bee Keeping patch by turning themselves into bees, and Poofenplotz tries to become Queen of the Worl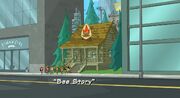 d by stealing and consuming massive amounts of royal jelly.
Isabella's Patch Fret
Pinky's Briefing
Think Like a Bee
Poofenplotz Rejected
Bee Transformation
Poofenplotz's Plan
Sucked into the vacuum
Return to the Lodge
The Jelly Factory
Patch Ceremony and Wading Pool Party
Ad blocker interference detected!
Wikia is a free-to-use site that makes money from advertising. We have a modified experience for viewers using ad blockers

Wikia is not accessible if you've made further modifications. Remove the custom ad blocker rule(s) and the page will load as expected.