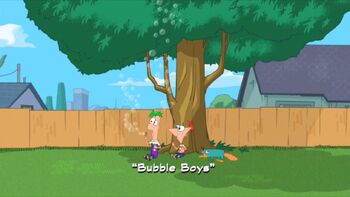 Phineas, Ferb, Buford, Baljeet, Isabella and the Fireside Girls decide to build a device that blows a huge bubble. The group are sucked into the bubble and float around the whole town, with Baljeet panicking about not sticking to his schedule. Meanwhile, Candace is practicing her driving with Linda in the car.
Read the full summary...
Phineas, Ferb and friends
Agent P and Dr. Doofenshmirtz
To return to the "Bubble Boys" episode summary, click here.
Ad blocker interference detected!
Wikia is a free-to-use site that makes money from advertising. We have a modified experience for viewers using ad blockers

Wikia is not accessible if you've made further modifications. Remove the custom ad blocker rule(s) and the page will load as expected.