My schedule is totally blown! I am going to miss my polka recital!
The gallery or quotes is/are not in order and is in need of organization. Please fix this. (October 30, 2011)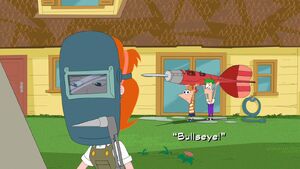 When Dad heads out to attend a speaking engagement on antiques, he unwittingly finds himself participating in the L.O.V.E.M.U.F.F.I.N. Pageant of Evil against Dr. Doofenshmirtz and Rodney. As a special host oversees the proceedings, Perry is tasked with monitoring the situation, but Dad gets hit with Rodney's "Evil-inizer," and is crowned the supreme leader of L.O.V.E.M.U.F.F.I.N. Meanwhile, Candace is determined to bust the boys but doesn't realize that they are actually helping with Mom's modern art installation. Across town, the boys are playing a giant game of darts.
Read the full summary...
Gallery Section
To return to the "Bullseye!" episode summary, click here.
Ad blocker interference detected!
Wikia is a free-to-use site that makes money from advertising. We have a modified experience for viewers using ad blockers

Wikia is not accessible if you've made further modifications. Remove the custom ad blocker rule(s) and the page will load as expected.