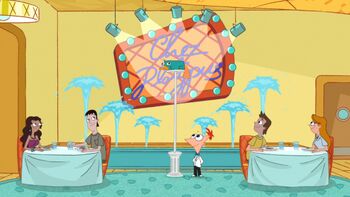 A restaurant that the boys build it, and they named it "Chez Platypus",it appeared in the episode of the same name. Doofenshmirtz and his date, Candace and Jeremy are one of the crowd who eats at the restaurant.
Read the full summary...
Gallery
Inspiration
Creation
The Staff
Candace and Jeremy's date
The Customers
Doofenshmirtz's date
The End
To return to"Chez Platypus (restaurant)", click here.
Ad blocker interference detected!
Wikia is a free-to-use site that makes money from advertising. We have a modified experience for viewers using ad blockers

Wikia is not accessible if you've made further modifications. Remove the custom ad blocker rule(s) and the page will load as expected.