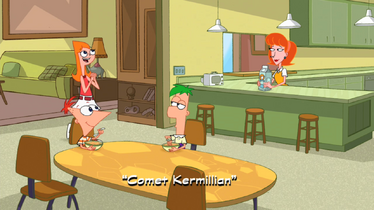 Phineas and Ferb carve pictures of their faces into a comet. Meanwhile, Candace tries to spend some time in the park with Jeremy, but her dreams were shattered when Jeremy's sister, Suzy, is there as well. Meanwhile, Dr. Doofenshmirtz steals all the steaks from the Tri-State Area.
Read the full summary...
Comet Kermillian Photo Gallery
To return to the "Comet Kermillian" episode summary, click here.
Ad blocker interference detected!
Wikia is a free-to-use site that makes money from advertising. We have a modified experience for viewers using ad blockers

Wikia is not accessible if you've made further modifications. Remove the custom ad blocker rule(s) and the page will load as expected.