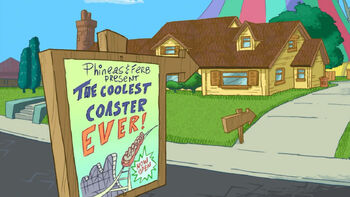 While trying to decide what to do during their summer vacation that will be worth telling their classmates about when they return to school in the fall, Phineas recalls an uninspiring rollercoaster at a State Fair. He realizes the can do much better and decides he and Ferb will build their own rollercoaster.
Read more about this Big Idea.
Inspiration
Design and construction
Advertising and unveiling
Riding the coaster
Going off course
After the ride
The Musical
Phineas and Ferb The Movie: Across the 2nd Dimension
Ad blocker interference detected!
Wikia is a free-to-use site that makes money from advertising. We have a modified experience for viewers using ad blockers

Wikia is not accessible if you've made further modifications. Remove the custom ad blocker rule(s) and the page will load as expected.