I need better clips.
This gallery needs more pictures. Please add more HD/HQ screenshots.
Once there is a sufficent number of pictures on the gallery, this can be removed.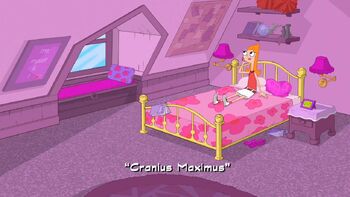 When Baljeet becomes concerned that he is losing his mental edge, the boys invent a cerebral stimulatory hat, or "Brain booster," to help him. But when the hat exceeds expectations and makes Baljeet exponentially smarter, he suddenly views everyone else as beneath him and becomes a threat to civilization by taking Earth's atmosphere and bringing it to the moon. Meanwhile, Dr. Doofenshmirtz plans to use his "Key-Find-Inator" to collect all the keys in Danville in hopes that it will lead to the Key to the City.
Read the full summary...
Gallery
To return to the "Cranius Maximus" episode summary, click here.
Ad blocker interference detected!
Wikia is a free-to-use site that makes money from advertising. We have a modified experience for viewers using ad blockers

Wikia is not accessible if you've made further modifications. Remove the custom ad blocker rule(s) and the page will load as expected.