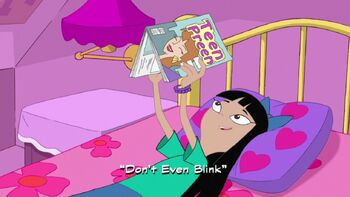 Candace tries to figure out how Phineas and Ferb's crazy creations disappear every time before their mom sees it. Doofenshmirtz creates an Invisible Ray to make the Fireside Girls invisible when they come knocking to sell him cookies.
Read the full summary...
Where does it go?
Doofenshmirtz and the Invisinator
Panoramas
To return to the "Don't Even Blink" episode summary, click here.
Ad blocker interference detected!
Wikia is a free-to-use site that makes money from advertising. We have a modified experience for viewers using ad blockers

Wikia is not accessible if you've made further modifications. Remove the custom ad blocker rule(s) and the page will load as expected.