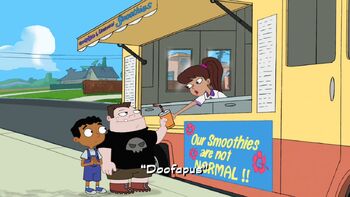 Change is afoot when Candace accidentally liquefies herself by coming in contact with Phineas and Ferb's device that turns solids into liquids. Meanwhile, Dr. Doofenshmirtz turns himself into a platypus to defeat Perry in battle, but finds it's harder than he ever imagined.
Read the full summary...
Gallery section #1
Gallery section #2
To return to the "Doofapus" episode summary, click here.
Ad blocker interference detected!
Wikia is a free-to-use site that makes money from advertising. We have a modified experience for viewers using ad blockers

Wikia is not accessible if you've made further modifications. Remove the custom ad blocker rule(s) and the page will load as expected.