I need better clips.
This gallery needs more pictures. Please add more HD/HQ screenshots.
Once there is a sufficent number of pictures on the gallery, this can be removed.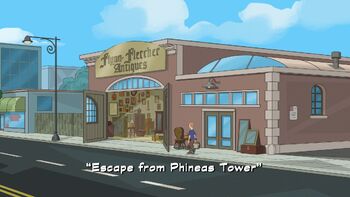 When Phineas and Ferb are inspired by an antique escape chamber that Dad acquires, they decide to build a computer-controlled tower that will trap them inside and allow them to explore the world of escapement. They have fun breaking out of all the traps until the tower becomes self-aware and goes beyond what it was programmed to do. The boys must escape before Candace wakes up. Meanwhile, Dr. Doofenshmirtz invents a "Rude-Inator" to ruin Roger's meeting with a visiting dignitary from England.
Read the full summary...
Section 1
Deleted Scenes
Ad blocker interference detected!
Wikia is a free-to-use site that makes money from advertising. We have a modified experience for viewers using ad blockers

Wikia is not accessible if you've made further modifications. Remove the custom ad blocker rule(s) and the page will load as expected.