We'll work on it.
It has been suggested that this page, or a section of it, be extended.
Once the points are expanded, the user may remove this tag. (June 8, 2013)
"Actually, lads, I'm not a Brit or a Yank. I'm just Ferb."
— Ferb to his cousins.
"Candace, we are just kids."
— Ferb to his stepsister during their trip to space.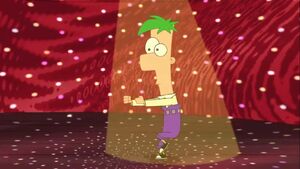 "Ferb" Fletcher
is a British
Fletcher
child currently living in
Danville
. He is the stepson of
Linda Flynn
and son of
Lawrence Fletcher
. He speaks with a British accent. He has a stepsister named
Candace
, and a stepbrother named
Phineas
. He is friends with
Buford
,
Baljeet
, and
Isabella
. Also, Ferb has a crush on
Vanessa
. A recurring joke is the fact that "Ferb" is short for something, but is currently unknown. He once attempted to tell Vanessa what his real name was, but got distracted and cut short. ("
Vanessassary Roughness
").
Ferb almost never speaks or emotes unless he is singing. He is very courageous and clever. Quick thinking and on his feet about things, Ferb is a mechanical and technical genius. Ferb has built a plethora of things, from a roller coaster to a rocket to robots.
Read the full page...
To return to the page for Ferb Fletcher, click here.