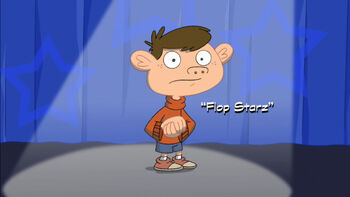 Candace tries out for The Next Super American Pop Teen Idol Star, but Phineas and Ferb take another route to stardom. Meanwhile, Perry the Platypus tries to stop the evil Dr. Doofenshmirtz from taking over the Tri-State Area with a giant building-shaped robot.
Read the full summary...
The career of a one-hit wonder
Have you got what it takes?
Candace's fashion choices
Phineas and the Ferb-Tones
On tour and contract negotiations
The mission
Panoramas
To return to the "Flop Starz" episode summary, click here.
Ad blocker interference detected!
Wikia is a free-to-use site that makes money from advertising. We have a modified experience for viewers using ad blockers

Wikia is not accessible if you've made further modifications. Remove the custom ad blocker rule(s) and the page will load as expected.