"I'm Dr. Heinz Doofenshmirtz and I like unicorns and rainbo- Wait, who switched my- ?"
— Doofenshmirtz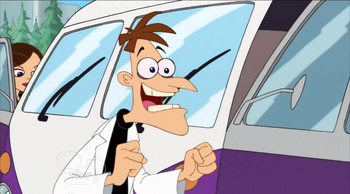 Dr. Heinz Doofenshmirtz, (Dr. D, Dr. Doofenshmirtz, Doofenshmirtz, or Doof for short), is a 47 year old mad scientist hailing from the country of Drusselstein. He is the head of Doofenshmirtz Evil Incorporated. He tends not to be evil in the traditional sense, but rather overly dramatic, eccentric and generally clueless. He attempts to wreak generally "evil" havoc and assert his rule across "the entire Tri-State Area and the world!" Despite true dedication to this mission nearly all of his plans have been thwarted by his nemesis Perry the Platypus.
Doofenshmirtz suffered through a comically exaggerated neglectful, even abusive, claimed terrible childhood that left him scarred for the rest of his life. His record in romance was equally dismal and almost always ended up with him being broken-hearten. Due to the cumulative weight of all these hardships he turned to evil and constantly attempts to seek vaguely directed vengeance with odd items he purchased off the internet.
Read the full page...