"Hi, Phineas. Whatcha doin'?"
— Isabella's catchphrase.
"Calm down, girls. Have you forgotten who we are? We're Fireside Girls Troop 46321 and we never give up!"
— Isabella to Fireside Girls troop 46321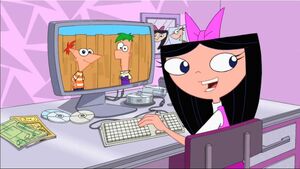 Isabella Garcia-Shapiro is the neighbor and best friend of Phineas and Ferb. Isabella has a very big crush on Phineas. She is the leader of Fireside Girls Troop 46231, and often volunteers to help in Big Ideas, usually with her troop involved.
Read the full page...
To return to the page for Isabella Garcia-Shapiro, click here.