"Well, I fashioned this dove to symbolize my desire for world peace and a true—"
— Jenny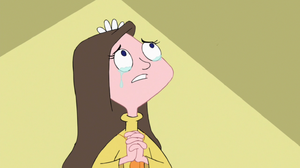 Jenny Brown is the older sister of Django Brown. She is known by and considered a friend of Candace, often being seen talking with her over the phone.
Read the full page...
Promotional
Merchandise
Books
Clothing
DVD
Music
Toys and Games
Miscellaneous
To return to the page for Jenny Brown, click here.
Ad blocker interference detected!
Wikia is a free-to-use site that makes money from advertising. We have a modified experience for viewers using ad blockers

Wikia is not accessible if you've made further modifications. Remove the custom ad blocker rule(s) and the page will load as expected.