My schedule is totally blown! I am going to miss my polka recital!
The gallery is/are not in order and is in need of organization. Please fix this. (October 28, 2016)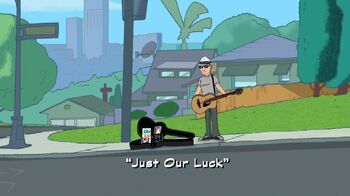 When Candace is accidentally zapped by Doofenshmirtz's Stinkelkrampen-Inator (aka Good Luck-Inator), she realizes she has a good chance of busting Phineas and Ferb.
Read the full summary...
Gallery
To return to the "Just Our Luck" episode summary, click here.
Ad blocker interference detected!
Wikia is a free-to-use site that makes money from advertising. We have a modified experience for viewers using ad blockers

Wikia is not accessible if you've made further modifications. Remove the custom ad blocker rule(s) and the page will load as expected.