My schedule is totally blown! I am going to miss my polka recital!
The gallery is/are not in order and is in need of organization. Please fix this. (February 3, 2013)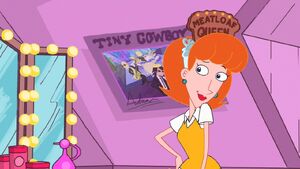 Linda Flynn-Fletcher (usually addressed and credited as "Mom" or "Mrs Flynn-Fletcher" by Isabella) is the mother of Phineas and Candace Flynn, and the stepmother of Ferb Fletcher. She's the daughter of Betty Jo Flynn and Clyde Flynn. She is married to Lawrence Fletcher. She is a regular American mother although she used to be a one hit-wonder named Lindana ("Flop Starz"), and now plays in a free form jazz band with Isabella's mother and Jeremy's mother ("Jerk De Soleil"). Her anniversary with Lawrence Fletcher is June 15th. ("Dude, We're Getting the Band Back Together")
Read the full summary...
Gallery
Bad Hair Day
Phienas and Ferb Interrupted
We Call It Maze
Sipping With The Enemy
Road Trip
Monster from the Id
Meatloaf Surprise
The Doonkleberry Imperative
Blackout!
Ad blocker interference detected!
Wikia is a free-to-use site that makes money from advertising. We have a modified experience for viewers using ad blockers

Wikia is not accessible if you've made further modifications. Remove the custom ad blocker rule(s) and the page will load as expected.