I need better clips.
This gallery needs more pictures. Please add more HD/HQ screenshots.
Once there is a sufficent number of pictures on the gallery, this can be removed. (April 10, 2011)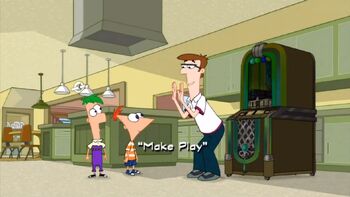 Candace switches places with a princess who looks just like her, but the ongoing antics of Phineas and Ferb prevent her from enjoying the royal luxuries, even for a day. Meanwhile, Phineas and Ferb enlist the princess to help them build a giant jukebox filled with live bands, and Dr. Doofenshmirtz plans on using his Claw-inator to ruin his brother's dedication of the Danville Opera House.
Read the full summary...
Candace's Plot
Perry's Plot

To return to the "Make Play" episode summary, click here.
Ad blocker interference detected!
Wikia is a free-to-use site that makes money from advertising. We have a modified experience for viewers using ad blockers

Wikia is not accessible if you've made further modifications. Remove the custom ad blocker rule(s) and the page will load as expected.