My schedule is totally blown! I am going to miss my polka recital!
The gallery is/are not in order and is in need of organization. Please fix this. (October 7, 2011)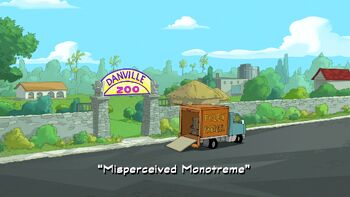 Perry misses his 100th battle against Dr. Doofenshmirtz when Candace takes him to the Charity Pet Wash with her. Perry's absence goes unnoticed when the zookeeper's typical platypus at the Danville Zoo stops Dr. Doofenshmirtz's plan to zap his brother with his "Least Likely-inator." Meanwhile, the boys build a fun house Phineas and Ferb style.
Read the full summary...
Phineas, Ferb and friends
Candace
Cleaning up the funhouse
"Perry's" mission