I need better clips.
This gallery needs more pictures. Please add more HD/HQ screenshots.
Once there is a sufficent number of pictures on the gallery, this can be removed.
"Hi, I'm Norm. The enemy of the platypus is man."
— Norm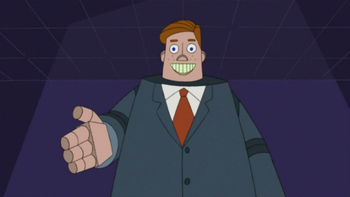 Norm is an over-sized humanoid robot that Heinz Doofenshmirtz originally created to try to destroy Perry the Platypus; he has since become Doof's assistant.
Read the full page...
Promotional
Merchandise
Books
Clothing
DVD
Magazines
Music
Toys and Games
Miscellaneous
To return to the page for Norm, click here.