I need better clips.
This gallery needs more pictures. Please add more HD/HQ screenshots.
Once there is a sufficent number of pictures on the gallery, this can be removed.
"Hi, I'm Norm. The enemy of the platypus is man."
— Norm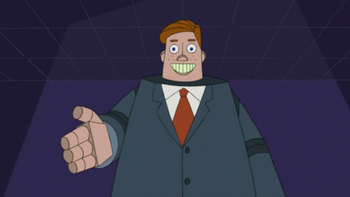 Norm is an over-sized humanoid robot that Heinz Doofenshmirtz originally created to try to destroy Perry the Platypus; he has since become Doof's assistant.
Read the full page...
Promotional
Merchandise
Books
Clothing
DVD
Magazines
Music
Toys and Games
Miscellaneous
To return to the page for Norm, click here.
Ad blocker interference detected!
Wikia is a free-to-use site that makes money from advertising. We have a modified experience for viewers using ad blockers

Wikia is not accessible if you've made further modifications. Remove the custom ad blocker rule(s) and the page will load as expected.