"So, Ferb, what should we do tomorrow? There's a world of possibilities. Maybe we should make a list!"
— Phineas to his stepbrother.
"I know what we're gonna do today!"
— Phineas' catchphrase.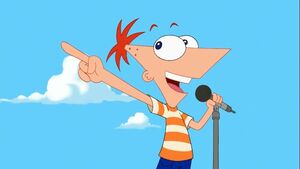 Phineas Flynn, also known as Dinner Bell by Buford, is a boy in the Flynn-Fletcher family. He is the son of Linda Flynn and stepson of Lawrence Fletcher. He is one of three children of the Flynn-Fletcher household, with a disapproving older sister Candace and a stepbrother from Lawrence's side of the family under the alias of Ferb. He shares a strong bond with the family pet, a platypus they named Perry but remains unaware of his vague double life as a covert agent.
An incurable optimist, Phineas constantly looks on the brighter side of things. He is as well extremely smart, creative, and persistent, able to endeavor in immensely large projects and activities with the help of his stepbrother. His hospitality is a driving force behind many of his plans.
Read the full page...
To return to the page for Phineas Flynn, click here.