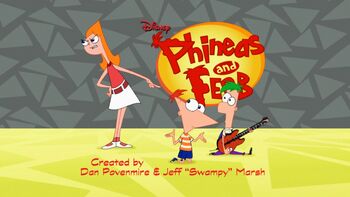 The lyrics for the Phineas and Ferb theme were first heard in "Rollercoaster" and have remained the same through all episodes seen in Season 2, except for "Phineas and Ferb Christmas Vacation!", and "Phineas and Ferb Summer Belongs to You!". In 2008, the theme song was nominated for an Emmy Award for "Outstanding Main Title Theme Music".
Phineas and Ferb Theme
Winter Vacation
Winter Vacation 2
Other
To return to the page for Phineas and Ferb Theme, click here.
Ad blocker interference detected!
Wikia is a free-to-use site that makes money from advertising. We have a modified experience for viewers using ad blockers

Wikia is not accessible if you've made further modifications. Remove the custom ad blocker rule(s) and the page will load as expected.