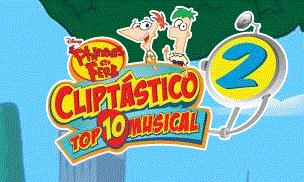 Phineas e/y Ferb Cliptástico 2 was a Phineas and Ferb event on Disney Channel in Brazil and Latin America inspired by "Phineas and Ferb Musical Cliptastic Countdown," only featuring songs from Season 2. The winning songs were aired as part of Zapping Zone on May 19, 2011.
Read the full summary...
Gallery section #1

To return to the "Phineas e/y Ferb Cliptástico 2" episode summary, click here.
Ad blocker interference detected!
Wikia is a free-to-use site that makes money from advertising. We have a modified experience for viewers using ad blockers

Wikia is not accessible if you've made further modifications. Remove the custom ad blocker rule(s) and the page will load as expected.