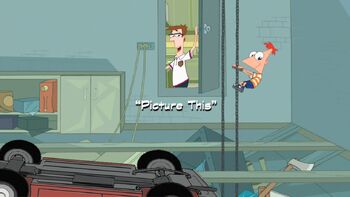 When Ferb accidentally leaves his skateboard with Grandpa and Grandma Fletcher, he and Phineas invent a transporter to retrieve any object. Candace figures out she can transport Mom there to bust them because that would mean Mom is literally in their project. Meanwhile, Dr. Doofenshmirtz tries to rid the world of Mime by trapping them in invisible boxes.
Read the full summary...
Gallery name needed
To return to the "Picture This" episode summary, click here.
Ad blocker interference detected!
Wikia is a free-to-use site that makes money from advertising. We have a modified experience for viewers using ad blockers

Wikia is not accessible if you've made further modifications. Remove the custom ad blocker rule(s) and the page will load as expected.