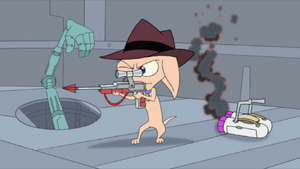 Pinky the Chihuahua is Isabella Garcia-Shapiro's pet chihuahua. Though by outward appearance he is a mindless animal, it has been revealed that he, like Perry the Platypus, is a secret agent (specifically in Wanda's Division). He, like Perry, is codenamed Agent P, but is more commonly referred to as Pinky or Agent Pinky. His nemesis is Professor Poofenplotz.
Ad blocker interference detected!
Wikia is a free-to-use site that makes money from advertising. We have a modified experience for viewers using ad blockers

Wikia is not accessible if you've made further modifications. Remove the custom ad blocker rule(s) and the page will load as expected.