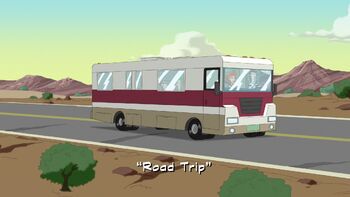 On the last day of the Flynn-Fletcher family road trip, Candace thinks she'll finally have a couple of hours to relax and not worry about busting her brothers. However, Phineas and Ferb decide to build a truck stop diner on top of the RV. Meanwhile, Doofenshmirtz is also doing a road trip, but he's using a big rig to transport his boom juice across the Tri-State Area.
Read the full summary...
Gallery section #1
To return to the "Road Trip" episode summary, click here.
Ad blocker interference detected!
Wikia is a free-to-use site that makes money from advertising. We have a modified experience for viewers using ad blockers

Wikia is not accessible if you've made further modifications. Remove the custom ad blocker rule(s) and the page will load as expected.