I need better clips.
This gallery needs more pictures. Please add more HD/HQ screenshots.
Once there is a sufficent number of pictures on the gallery, this can be removed. (September 17, 2012)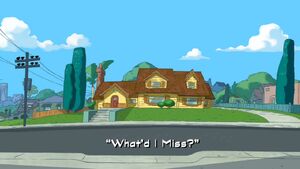 Phineas and the gang introduce Ferb and Perry to their newest project - training domesticated squirrels to live in the wild. Meanwhile, Dr. Doofenshmirtz aims to do a better job of seeing through his evil plans now that Agent P is back.
Read the full summary...
Gallery
To return to the "What'd I Miss?" episode summary, click here.
Ad blocker interference detected!
Wikia is a free-to-use site that makes money from advertising. We have a modified experience for viewers using ad blockers

Wikia is not accessible if you've made further modifications. Remove the custom ad blocker rule(s) and the page will load as expected.