"Inator Method"



Heinz singing.

Song by Dr. Doofenshmirtz and Laura Dickinson
Genre(s):
Show Tune, Acoustic rock
Length:
0:55
Dr. Doofenshmirtz & Laura Dickinson chronology
Previous:
"Talk to Him"
Current:
"Inator Method"
Next:
"Army of Me" (Doof)
"Doof 101" (Laura Dickinson)
Video

01:05

Phineas and Ferb - The Inator Method (Song)
"Inator Method" is a song sung by Heinz Doofenshmirtz and a chorus of girls for introducting his seminar in "The Inator Method".
Lyrics
Doofenshmirtz: Maybe you're a loser who's been sleeping in his car,
Or a crazy person saving all their toenails in a jar. (Nice!)
There may be many reasons you can count yourself subpar,
But the biggest one is you've signed up for this here seminar.
But I'm the guy who'll give you all the answers
Sit back, relax, and I will cue my backup dancers.
Backup dancers: The inator Method!
Doofenshmirtz: It's the method with all the solutions...
Backup dancers: The inator Method!
Doofenshmirtz: This is the one! Don't accept substitutions!
Backup dancers: The Inator Method!
Doofenshmirtz: Soon you'll see that the only conclusion is to...
Doofenshmirtz and Backup Dancers: Follow those impulsive urges,
You'll know that you'll want to purchase now!
The Inator Method!
Gallery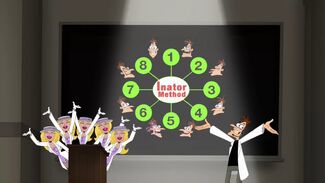 The image gallery for Inator Method may be viewed here.
Background Information
Songwriters
BMI Work #18690459
References
Ad blocker interference detected!
Wikia is a free-to-use site that makes money from advertising. We have a modified experience for viewers using ad blockers

Wikia is not accessible if you've made further modifications. Remove the custom ad blocker rule(s) and the page will load as expected.