Ad blocker interference detected!
Wikia is a free-to-use site that makes money from advertising. We have a modified experience for viewers using ad blockers

Wikia is not accessible if you've made further modifications. Remove the custom ad blocker rule(s) and the page will load as expected.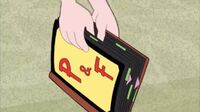 Irving's scrapbook is a scrapbook owned by Phineas and Ferb's extreme fan, Irving Du Bois.
Contents of the book
The scrapbook contains pictures and mementos from all of Phineas and Ferb's Big Ideas. For example, it contains pictures of the rollercoaster, the chariot race and when they ran Chez Platypus. The book also has a lock of Ferb's hair. It is unknown on how Irving acquired that item, but he does not want anyone to touch it. Not even Phineas. ("Hide and Seek", "Delivery of Destiny")
UPAFDS
The Ultimate Phineas and Ferb Digital Scrapbook (pronounced "up-a-fids") contains all of Phineas and Ferb's creations. It looks like a tablet that has all of Phineas and Ferb's creations during the summer. ("What A Croc!")