Kermillian's Comet
Discovered by
Augustus Kermillian
Year Discovered
Most likely 1700s
Type of Comet
Periodic Comet.

Kermillian's Comet is a comet named after famed ancient Danville astronomer Augustus Kermillian, who discovered the comet during a flight past earth. It only appeared in the episode "Comet Kermillian".
Discovery
The comet was first discovered by Augustus Kermillian, sometime in the 1700s. He discovered that it comes back every 73 1/2 years.
Timeline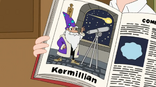 1700s

Augustus Kermillian discovered the comet. It was named after him.

2000s
2080s

The comet will return to Danville. It is unknown wether Linda and Lawrence will see the inscription or not, or, based on Phineas and Ferb's Quantum Boogaloo, if they will even be alive to see it.
Background Information
Legend has it that if you make a wish while the comet is visible, it will come true. Two wishes seemed to come true. The first one was that the Flynn-Fletcher family and their friends would have steaks (due to Doofenshmirtz's plan going wrong). The second was that Jeremy would still be friends with Candace.
Ad blocker interference detected!
Wikia is a free-to-use site that makes money from advertising. We have a modified experience for viewers using ad blockers

Wikia is not accessible if you've made further modifications. Remove the custom ad blocker rule(s) and the page will load as expected.