We'll work on it.
It has been suggested that this page, or a section of it, be extended.
Once the points are expanded, the user may remove this tag.
Throughout the show, many characters have been shown to read magazines. Here are some of the known magazines that characters read and/or was featured in.
Flawless Girl magazine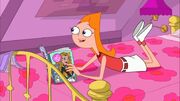 Flawless Girl magazine is a magazine that is based on the cosmetics line, Flawless Girl. Flawless Girl is a fashion magazine, which gives readers up-to-date fashion news. It is possible that the magazine is edited by Flawless Girl's founder, Blanca Dishon. The magazine's cover has a picture of the Flawless Girl model. Stacy and Candace have been known to read the magazine.
It was first shown in "Attack of the 50 Foot Sister".
Quazmo magazine
Quazmo magazine is a teen magazine which presumably focuses on relationships. Candace is shown reading an article on how to be "better". It also features an article which, on the front page, is titled "How to know when it's over". When Candace read the article, she freaked out because she thought her relationship with Jeremy was over. Quazmo is thought to be an allusion to Cosmopolitan magazine, which is often shortened to Cosmo.
Quazmo magazine appeared in "Cheer Up Candace".
Tween Bleep magazine
Tween Bleep magazine was also shown in "Cheer Up Candace". The article is aimed at tweens, hence the name. Isabella was shown reading it.
Evil Beat! Magazine
Evil Beat! magazine was shown in "Out of Toon". It is apparently a magazine focusing on all things evil. One issue featured Heinz Doofenshmirtz and his dance ray on the cover.
Lil' Sparks Magazine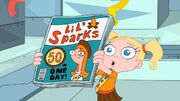 The Lil' Sparks organization appears to have its own magazine. In "We Call it Maze ", it was shown that Candace Flynn was featured on the cover of one issue, highlighting her achievement of receiving 50 Fireside Girls patches in a single day.
Heather Magazine
Candace takes the "What Kind of Teen Are You" quiz in this magazine. At first she mistakenly believes she is an "Emo Teen", but Stacy revealed she added her score wrong to reveal she is the "Busting and Crush-Obsessed Older Sister Type Who Can't Do Math". ("Bee Day")
Spy Hat Magazine
Is seen on the Perry's wristwatch communicator ("The O.W.C.A. Files")