Home
Talk

218
2,612pages on
this wiki
Around the Wiki
Recaps on your favorite show.

The musical parts of the show.

Danville and beyond.

Cast members of the show.

Stuff to buy.

Participate, it's fun.

New to the Wiki?
Featured Article
Organization Without a Cool Acronym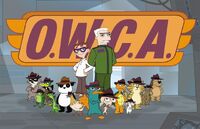 The Organization Without a Cool Acronym, also known as The Agency, is a government agency whose mission seems to be to stop evil scientists from carrying out their diabolical plans. While the leadership is human, all of the Agency's agents are animals, with two exceptions: Norm, who was fired shortly after entering, and Planty the Potted Plant. Heinz Doofenshmirtz was also briefly hired, and fired the same day. (Read more...)
Song of the Month
Summer Belongs to You
This song is a song from the special episode "Phineas and Ferb Summer Belongs to You!" performed when the group returns home from their trip around the world.

Lyrics
Phineas: It's been a long, long day

And there were moments when I doubted

Isabella: That we'd ever reach the point

Where we could laugh and sing about it

Phineas and Isabella: Now the sun is set on this,

Another extraordinary day

And when it comes around again

You know I'll say...
Tell me what'cha wanna do today

All we need is a place to start

If we have heart, we'll make it

'Cause we're not messing around

(We're not messing around)
Read more...
Monthly Quote
Did You Know...?
From Phineas and Ferb Wiki's latest articles.

...that Candace's catchphrase "You are so busted" was once said by Ashley Tisdale (her voice actress) as Maddie Fitzpatrick in "The Suite Life of Zack and Cody" episode "Kisses and Basketball"?
...that during production of the episode "Elementary My Dear Stacy," Dan Povenmire developed a cold and wasn't able to voice Doofenshmirtz until after he got better?
Helping Out
Not sure where to start?
The Community Portal is a great place to learn about the wiki. It contains information for newcomers and regular members alike:
Information on the show, actors, theme song, broadcast channels, the Big Ideas and Doofenshmirtz's schemes and inventions.
Info on getting started and editing the wiki, with video demos.
How to customize your User page.
See what's missing on pages.
How to maintain pages and make sure they have a consistent look.
Reference materials on templates, categories and more.
Fan art, fan fiction, blogs and newsletter articles.
Talking with other members of the wiki in Forums and IRC channels.
When a new episode premieres, check the Editing checklist to see what information needs to be added.
Affiliates
Be sure to check out our affiliated wikis!


The wiki about the television show


Phineas and Ferb

that

anyone can edit

!
We currently have


2,612 articles


and a plethora of

spoilers

relating to the show and its licensed media.
Currently, there are also communities in the following languages:

DE
ES
NL
PL
PT
PT-BR
RU
VI
Phineas and Ferb Headlines
Loading RSS data...
Refresh
·
Read more...
Show News Blogs
Almost here Phineas and Ferb: Star Wars is. Today, Disney announced the release date as well as some additional details for the long-awaited second crossover of the Boys of Perpetual Summer with an extended Disney universe (not to be confused with the Star Wars Extended Universe - or Star Wars Legends…

Read more >
Community News
Winter will soon give way to Spring, and that means it's time again for Nickelodeon to open the voting for their Kids Choice Awards. Just like last year, Phineas and Ferb is up against SpongeBob SquarePants for favorite cartoon, and they're joined by Adventure Time and the new Teenage Mutant Ninja Turtles…

Read more >

Around two years ago, I ended up becoming part of the Phineas and Ferb Wiki's social networking team by chance. I had submitted a number of posts on the Wiki's Facebook page linking to news and interesting links regarding Phineas and Ferb, which caught the attention of one of our admins and the prop…

Read more >

Are you talented in computer art?  How good are you with the colors turquoise (or teal) and tangerine?

Platypus Day is coming on March 2nd here in the Western Hemisphere, and if you're good with both colors mentioned, you just might to want to ceate a background in honor of Agent P like we did last …

Read more >


  (subscribe)                



The Official ' Newsletter, Issue 86: February 19, 2013



 











Contents
1 Big Same Sunday in Danville
2 Crat Corner
3 Platypus Day is nearly here







There was no truth to the rumors that the big football game between the Charm City Poebirds and the Bay Area Gold Rushers was delayed due t…














Read more >

Recently, Wikia announced that they were going to upgrade the MediaWiki software that runs all of their wikis. They have a lot of testing to do to make sure everything they've customized works with the new version. Some of the updates include making sure the code is HTML5-compliant. As such, the re…

Read more >
Featured Pictures