Phineas and Ferb: Mission Marvel/Credits
Talk

0
Share
Ad blocker interference detected!
Wikia is a free-to-use site that makes money from advertising. We have a modified experience for viewers using ad blockers

Wikia is not accessible if you've made further modifications. Remove the custom ad blocker rule(s) and the page will load as expected.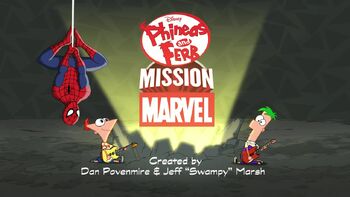 Spider-Man, Iron Man, Thor and Hulk stand powerless after being struck by Dr. Doofenshmirtz's power-draining "inator." Once the supervillains – Red Skull, Whiplash, Venom and M.O.D.O.K. – find out that Dr. Doofenshmirtz is responsible for robbing the superheroes of their powers, they seek him out and together create mayhem in Danville. Meanwhile, Phineas and Ferb do everything they can to restore the superheroes' powers before the evil villains take over the world.
Read the full summary...
Opening Credits
Ending Credits
Executive Producers
Dan Povenmire
Jeff "Swampy" Marsh
Producer
Robert F. Hughes
Line Producer
Natasha Kopp
Story Editor
Scott Peterson
With the Voice Talents of

Vincent Martella as Phineas
Ashley Tisdale as Candace
Thomas Brodie-Sangster as Ferb
Caroline Rhea as Mom
Richard O'Brien as Dad
Dan Povenmire as Dr. Doofenshmirtz
Jeff "Swampy" Marsh as Major Monogram
Tyler Mann as Carl
John Viener as Norm
Dee Bradley Baker as Perry
Maulik Pancholy as Baljeet
Bobby Gaylor as Buford
Alyson Stoner as Isabella
Jack McBrayer as Irving
Chi McBride as Nick Fury
Travis Willingham as Thor
Adrian Pasdar as Iron Man
Drake Bell as Spider-Man
Fred Tatasciore as Hulk
Liam O'Brien as Red Skull
Charlie Adler as M.O.D.O.K.
Danny Trejo as Venom
Peter Stomare as Whiplash
Stan Lee as NY Hotdog Vendor/Narrator

Additional Voices
Allie Mackay
Alyson Stoner
Dan Povenmire
Jeff "Swampy" Marsh
Kelly Hu
Casting By
Sara Goldberg
Dialogue Director
Jeff "Swampy" Marsh
Art Directors
Jill Daniels
Alan Bodner
Production Manager
Mark Brammeier
Retake Director
Herb Moore
Character Design
Celeste Moreno
Greg Guler
Tommy Tejeda
Location Design
Brian Woods
Debbie Peterson
Melinda Leasure
Maurice Morgan
Plamen Christov
Tim Allen
Prop Design
Anthony Vukojevich
Chuck Puntuvatana
Storyboard Revisions
Calvin Suggs
Christopher D. Harmon
Edgar Karapetyan
Isaiah Alexander
Kris Heller
Kyle Baker
Leonardo Pinero
Michael B. Singleton
Timing Directors
Andrew Overtoom
Barbara Dourmashkin-Case
Derek Thompson
Theresa Wiseman
Color Stylists
Nancy Ulene
Allyn Conley
Background Paint
Andy Underwood
Esther Kim
Jill Daniels
Natasha Lieberman
Lucy Tanashian-Gentry
Continuity Coordinator
Wendy Jacobsmeyer
Additional Storyboards By
Chris Headrick
Edgar Karapetyan
John Mathot
Mike Diedrich
Wendy Grieb
Technical Directors
Brian Deemer
Darrin Drew
Scott Rossman
Music By
Danny Jacob
Main Title Theme By
Dan Povenmire
Jeff "Swampy" Marsh
Carl Hill Williams
Michael Walker
Michael Culross Jr.
Performed by
Bowling for Soup
Animation Production by
Wang Animation Studios
Synergy Animation

MARVEL, Iron Man, Spider-Man, Thor, Hulk, Nick Fury, Red Skull, Venom, Whiplash, M.O.D.O.K., S.H.I.E.L.D., the S.H.I.E.L.D. Helicarrier, and their distinctive likenesses: TM & © 2013 Marvel. All Rights Reserved.

Co-Executive Producer
Stan Lee
For Marvel
Alan Fine
Dan Buckley
Joe Quesada
Jeph Loeb
Cort Land
Venom Created by
Todd McFarlane
David Michelnie
Assistant Film Editor
Shawn Lemonnier
Film Editor
Anne Harting
Animatic Editors
Anne Harting
Lauren Crist
Shawn Lemonnier
Track Readers
Jim Harrison
Laurie Wetzler
Pre-Production Dialogue Editor
Jim Harrison
Dialogue Engineer
Chris Cirino
Re-Recording Mixers
Melissa Ellis
Fil Brown
Dialogue Editor
Robbi Smith
Assistant Dialogue Editors
Jacob Ortiz
Ryan Coursey
Digital Coordinator
Ryan Burkhard
Post Production Supervisor
Drew Tolman
Post Production Coordinators
Stephenie Moffat
Treasure Rawson
Production Control
Sarah Wintucky
Sound Designer
Robert Poole II
Digital Audio Transfer
Robert Pratt
Foley Mixer
Roy Braverman
Foley Artist
J. Lampinen
Production Supervisor
Lance Lecompte
Production Associate
Kenny Kweens
Production Secretary
Teresa Lara Ferragamo
Production Coordinator
Jeff Moznett
Script Coordinator
Dawn Connors
Talent Coordinator
Rachel Glauber
Produced by
Disney Television Animation


This picture made under the jurisdiction of
IATSE, affiliated with A.F.L.-C.I.O.-C.L.C.

© 2013 Disney Enterprises, Inc.
All Rights Reserved
Previous:
Unknown
Credits
Next:
Unknown