Look at you! You're just a bottom!
This article, transcript, or section is incomplete and needs to be completed. Any user is obliged to do so.
Eighth official regular issue of the Phineas and Ferb Magazine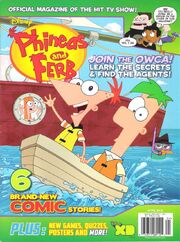 Contents
Comics
Phineas and Ferb Spin-offs
Three's a Crowd
A Moment with Buford and Baljeet
Secrets from OWCA
Dead Calm
Rock Concertpalooza!
Fun and Games
Who's who in Danville
Spot It!: Two Parties are Better Than One!
Daily Danville
How can I paint a Colossal Masterpiece?
Join the OWCA
Awkward Moments with Candace
Dr. Doofenshmirtz's Completely Complete Guide to Self-Destruct Buttons
Whatcha Seeeein'?
The Power of Observation
Skiddley Whiffers
Contest!
Posters and Cutouts
Fireside Girls Handbook: Sewing Patch
Phineas and Ferb Ultimate Book Cover Kit
Unpaid Intern Poster
Isabella Poster
OWCA Agent Field Guide
Enter at Your Own Risk!
Ad blocker interference detected!
Wikia is a free-to-use site that makes money from advertising. We have a modified experience for viewers using ad blockers

Wikia is not accessible if you've made further modifications. Remove the custom ad blocker rule(s) and the page will load as expected.