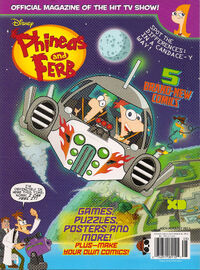 Phineas and Ferb magazine July/August 2011 is the third official issue of the magazine.
Contents
"Who's Who in Danville"
Fireside Girls Handbook "Pit Crew" patch
Daily Danville
"Creative Construction" design a Phineas and Ferb contraption
Comic: "The Squids are All Right"
"Instant Evil Henchman"
Advertisement: "The Incinerator-Inator!"
"The Differences are Busted" Spot the Diff
"Make Your Own Comics"
"Phineas All Around"
Double-sided poster, "Awakward" scene from "It's About Time!" with Perry the Platypus meeting Peter the Panda, and Candace "You're So Busted"
Comic: "Go West Young Ferb"
"Dash Through Danville" board game
Comic: "Secrets from OWCA: Organization Without a Cool Acronym"
OWCA Agent Field Guide, Agent D and Agent C
"Ferb Forever"
Quiz: "The Doofenfiles" quiz on Dr. Doofenshmirtz
Comic: "Last Episode"
"You Finish It" word fill-in
Ad blocker interference detected!
Wikia is a free-to-use site that makes money from advertising. We have a modified experience for viewers using ad blockers

Wikia is not accessible if you've made further modifications. Remove the custom ad blocker rule(s) and the page will load as expected.