Phineas and Ferb (magazine)/Summer 2011 Movie Special
Talk

0
Share
Ad blocker interference detected!
Wikia is a free-to-use site that makes money from advertising. We have a modified experience for viewers using ad blockers

Wikia is not accessible if you've made further modifications. Remove the custom ad blocker rule(s) and the page will load as expected.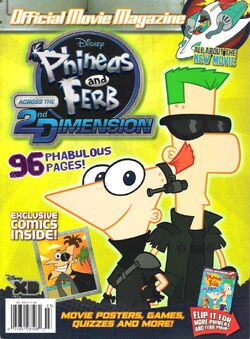 The Phineas and Ferb magazine featured a special newsstand-only issue for Summer 2011. It featured 96 pages and had a cover price of $9.99 US.
Contents
This is the first flip issue of Phineas and Ferb magazine. Half of the issue is about the new Disney Channel movie, and the other half is regular.
Side One (Regular Issue)
Fun & Games
Who's Who In Danville (by Deb Barnes) - P&F periodical table
The-Guide-to-Everything-P-and-F-inator (by Deb Barnes) - Guide to everything P&F
Giude-to-Everything Quiz (by Deb Barnes) - Test your knowledge on everything P&F
Spot It!: Double Take (by Candace Flynn and Rachel Bozek) - Spot the differences in the pictures of Candace and Buford from the episode The Lemonade Stand
Fireside Girls Handbook: Circus Performer Patch (by Thea Klapwald) - Learn what it takes to earn this patch
Daily Danville 
Draw It! - Learn how to draw Phineas, Ferb, Perry/Agent P and Candace
What's So Phunny?
Posters
Phineas 
Ferb 
Agent P 
Dr. Doofenshmirtz 
Candace 
Isabella 
Comics
The Comic Hijinks of Norm and Doof
Rubber Man
Isabella the Hero
A Momment With Buford and Baljeet
P Versus P
The Further Adventures of Doof 'n' Puss
Phineas and Ferb Spin-offs
Fun & Games
Who's New (by Deb Barnes) - Learn about the new chracters from the movie
Across the Second Dimension With Dan and Swampy (by Amy Weingartner and Steve Behling) - Interview with Dan Povenmire and Jeff "Swampy" Marsh about the movie and show
Doofenshmirtz Evil News Update - Evil news update from Dr. Doofenshmirtz (2nd Dimension)
Spot It!: Everything's Better With Perry (by Phineas Flynn and Rachel Bozek) - Spot the differences in the pictures of Phineas, Ferb and Perry from during the song Everything's Better With Perry
Firestorm Girls Handbook: Resisting-An-Evil-Dictator Patch (by Thea Klapwald) - Learn what it takes to earn this patch
OWCA Top Secret Spy Gear Catalog (by Deb Barnes) - OWCA spy gear catalog with space to draw your own versions
Doofenmask! (by Rob Tokar) - Become Dr. Doofenshmirtz (2nd Dimension) with this mask and gotee
Undercover Uncovered! - How to know if your pet is a secret agent
Existential Bookmarks (by Craig Tomashoff) - From the makers of Existential Trading Cards come Existential Bookmarks
How Can I Control a Mysterious Force? (by Candace Flynn and Stacy Hirano (as told to by Behnoosh Khalili)) - Learn how to control a mysterious force from Candace and Stacy
Memory Matchup (by Behnoosh Khalili) - Matchup up the Doofenshmirtzs's outfits from the song  Brand New Best Friend
2nd Dimension Trivia Challenge (by Thea Klapwald) - test how much you know about the movie
Fill This In! - Take the poll and send it in to say what you though of the magazine
Comics
Pretendy the Practice-Pus
Everything's Better With Perry
Dawn of the Platyborg
Posters
Spanish contents
The magazine was launched in Spain but with less contents: