My favorite way to win...
This article is about a contest and/or sweepstakes sponsored by Disney and/or one of their licensees/sponsors using Phineas and Ferb characters. The contest is currently going on or has ended, depending on the date the article was either created or updated.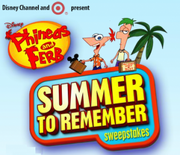 The Phineas and Ferb Summer to Remember Sweepstakes was a contest sponsored by Disney Channel and Target that ran in April and May 2012 as part of Disney Parks' self-titled promotion. The grand prize consisted of 26 trips for four people - two adults, two kids - for a total of 104 people (tied into the theme song opening lyric that states that there are "one hundred and four days of summer vacation") to Walt Disney World including a private party with the Phineas and Ferb costumed characters running from August 23 through 27 of said year. There were also 104 runner-up prizes of US $50 Target gift cards. To enter, potential contestants had to text the word "SUMMER" to DISNEY (347639) or via Disney's web site. Disney Parks' blog posted a video with all the activities in September 2012, as seen below:
Ad blocker interference detected!
Wikia is a free-to-use site that makes money from advertising. We have a modified experience for viewers using ad blockers

Wikia is not accessible if you've made further modifications. Remove the custom ad blocker rule(s) and the page will load as expected.