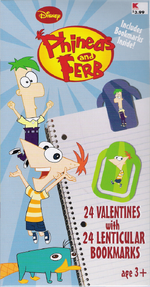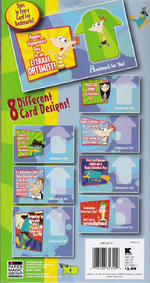 Phineas and Ferb Valentines
are manufactured by the Paper Magic Group and are currently available in most retailers. The package contains 24 valentines and a sheet of heart stickers to seal them with. The cards come in 8 different designs. Many use the characters' (featured on the valentines) catch phrases, only altered for Valentine's Day.
The package shown in the pictures to the right bears a pre-printed K-mart price tag of $3.99 US and contains lenticular bookmarks (moving images) instead of the stickers.
Cards
External links
Ad blocker interference detected!
Wikia is a free-to-use site that makes money from advertising. We have a modified experience for viewers using ad blockers

Wikia is not accessible if you've made further modifications. Remove the custom ad blocker rule(s) and the page will load as expected.